Description
The 1650 Watt Solar kit is easy to install with 6 panels connected in series for Off Grid 12v-24v-48v systems.
 

This kit utilizes "oversizing" by using higher voltage panels. You can size Morningstar's MPPT controllers well above the Maximum Nominal Solar PV Input rating without damaging the controller and without the charging current exceeding the maximum output rating.
Energy harvesting during lower power production periods (cloudy weather) is often more valued than during times when the array can operate at full power (sunny weather). These controllers can limit current and will run at 100% of rated output, and work especially well when your batteries are deeply  discharged. Oversizing runs the controller at maximum levels more consistently
The controller was designed with this power-shaving capability and when oversized it does not void the warranty.
1650 WATT RV SOLAR KIT
Morningstar Trlstar MPPT 60a charge controller with temp sensor and optional remote digital meter

6 x 275 Watt Canadian Solar Panels
These are large panels 65.0 x 39.1 x 1.57 in and weigh 40 lbs
Max power (Pmax)           275W
Max current (Imp)             8.80A
Max voltage (Vmp)           31.3V
Short circuit current (Isc)  9.31A
Open circuit voltage(Voc) 38.3V
The 60a Morningstar MPPT charge controller out performs all other comparable controllers. MPPT TrakStar adds 10-30% Gain in charging early, late (low light conditions) and especially in colder weather or when batteries are deeply discharged
Morningstar TriStar-TS-MPPT-60 Controller 12/24/48V 60Amp
Morningstar's TriStar MPPT solar controller with TrakStar Technology is an advanced maximum power point tracking (MPPT) battery charger for off-grid photovoltaic (PV) systems up to 3kW. The controller provides the industry's highest peak efficiency of 99% and significantly less power loss compared to other MPPT controllers. The TriStar MPPT features a smart tracking algorithm that maximizes the energy harvest from the PV by rapidly finding the solar array peak power point with extremely fast sweeping of the entire I-V curve. This product is the first PV controller to include on-board Ethernet for a fully web-enabled interface and includes up to 200 days of data logging.
Z type flat roof 4-Mount Brackets (6 sets)
Heavy duty with stainless steel screws.
MC4 Y connector set to connect 
2 Strings in Parallel of 3 panels in Series
25 Ft 8ga MC4 Male to Charge Controller Positive Lead cable
25 Ft 8ga MC4 Female to Charge Controller Positive Lead cable
(ships 30′ cable pos/neg to be cut in 1/2)
TRISTAR DIGITAL REMOTE METER
The meter will display a great deal of information about the TriStar controller and the operation of your system. In addition, the meter enables manual functions and controller diagnostics. These capabilities will increase your confidence that the system is working properly and will help you to improve system reliability, battery life, and system performance. It is worth the time getting to know your meter!
*This is a charging monitor only. Trimetric full system monitor here
   TEMPERATURE SENSOR INCLUDED
It sends more voltage when batteries are cold so they still 100% charged.
It sends less voltage when batteries are hot so they don't overcharge.
* These panels should be connected with 3 panels in Series Per String, and 2 Strings in Parallel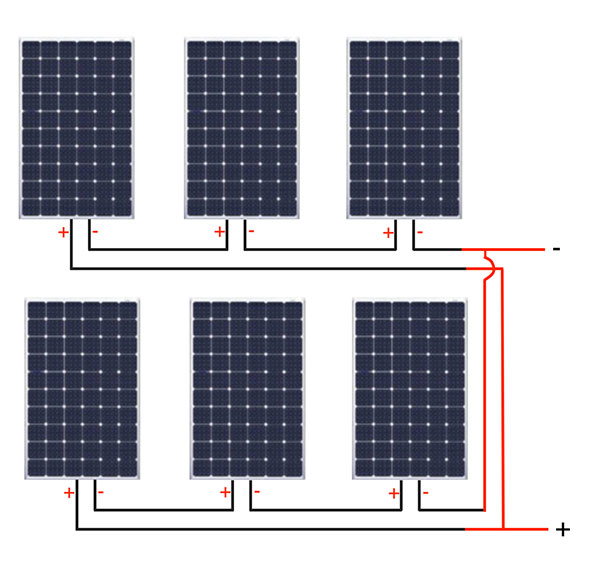 *These could also be wired 2 panels in Series Per String, 3 Strings in Parallel
*Be aware that panels connected in series (pos to neg) are susceptible to shading issues because Shade on one panel lowers output from all panels in that series string. Not so in parallel configurations
kit does not include the 2 battery cables that go from controller to battery posts. Heavy cables kept short with controller mounted as close to battery bank as possible. 
For 12v systems,12v Inline fuses and breakers are very inexpensive and easy to find locally at auto parts or car stereo stores
          common 12v inline fuses and breakers
Easily install your system professionally and safely
Midnite Solar Baby Box with 2 breakers
                                                   
Wiring of these devices is covered in detail in this article