Description
    Only one Solar panel provides 200 Watts of Power!
Get a great expandable starter system now. Complete kit with quality components just needs 12v deep cycle battery(s) and will last many years
For off grid, emergency back up power, or full time use around home or shop
This starter kit can charge 2 x 6v deep cycle batteries up to 55ah per day, and can be expanded to 110ah / day easily with 400 Watts and 2 panels.
800W Inverter provides 6.9 amps to run TVs, DVD players, stereo systems, computers, small power tools, and more.
1000W Inverter provides 8.7 amps and runs computers, household appliances, small power tools, wet/dry vacuums and more.
Includes 25a Morningstar charge controller with remote digital meter
World's leading solar controllers for industrial and consumer use for 27 years. Over 4 million sold
Highest reliability and improved battery charging is well-recognized in the solar industry.
Monocrystalline Solar Panel – Easy to install on any flat roof surface

Size: 64.57″ x 26.57″ x 1.38″ – 24lbs – Tempered glass – Anodized Aluminum Frame – 30″ cables w/ MC4 connectors
25-year power output warranty
SS Z mount set and 15′ ext cables w/ MC4 connectors
Your 400 Watt RV Solar system is only as good as your charge controller and will work reliably and be dependable for many years using a Morningstar Charge Controller. These are widely considered the very finest solar charge controllers in the world.
Wonder why some "solar kits" advertised cost so much less? Because they come with the cheapest controllers available from China, typically with very short warranties.
Morningstar controllers have 5 year warranties with 15 year life expectancies.

There are actually many Morningstar controllers still functioning perfectly in the field after 25 years of continuous use. At BHA Solar we have sold 1000's

This 200 watt, single panel Solar Kit is easy to install and a good match for a pair of 6v deep cycle (golf cart) batteries.
Has an option to charge two separate batteries at the same time
800 Watt Modified Sine Wave Inverter and 3′ battery cables Included
USB charging port +5 VDC, 2.1A                
2 three prong outlets                                    
Compact design                                           
Load controlled cooling fan                          
2 X Surge                                                     
Low battery alarm                                        
Soft start technology                                    
Handheld Video Games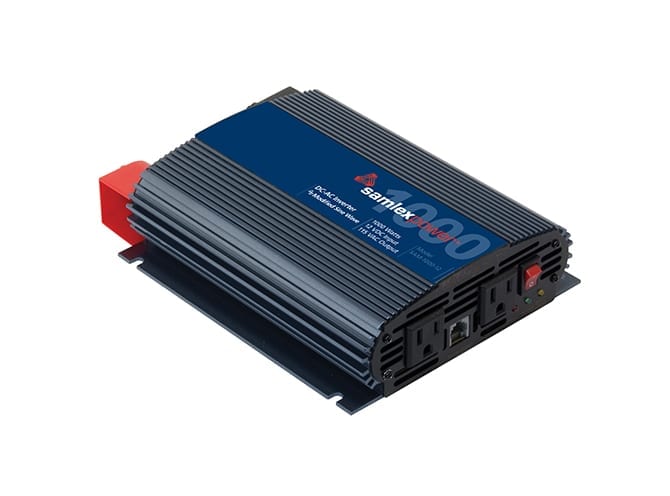 Optional 1000 Watt Modified Sine Wave Inverter
The SAM-1000-12 can provide up to 8.7 amps of 115 Volt AC current whenever and wherever you need it. The SAM-1000-12 runs most AC powered electronic equipment, including TV/DVD combinations, computers, household appliances, small power tools, wet/dry vacuums and more
25 Ft MC4 Male to Charge Controller Positive Lead cable
25 Ft MC4 Female to Charge Controller Positive Lead cable
(50′ roll to be cut in 1/2)

Z type 4-Mount Brackets
Heavy duty with stainless steel screws.
12v Inline fuses and breakers are very inexpensive and easy to find locally at auto parts or car stereo stores

         12v inline fuses and breakers